I'm thinking about Christmas a lot earlier this year than I normally would. Last Christmas I had just set up my Etsy shop in November, and I didn't get hit with a Christmas rush, but this year I'm trying to prepare for a rush (power of positive thinking?).
Even if my Etsy shop isn't as busy as I anticipate, I've already booked my spot at the local annual Farmer's Market Christmas fair(s) on Dec. 3 and 10th, and I'd like to have a stockpile of slippers for that!
I probably won't go full-out with Christmas themed goods in my Etsy shop, but I'd like to have some more festive fabric choices for my slippers. Who wouldn't love to schlep around in a pair of holiday slippers on Christmas day! Whilst I was looking at fabric on Etsy, I happened upon
sewlovechristmas
, an entire store dedicated to Christmas fabric!
They have heaps of cute choices, but right now my favorite is Damask in Green, by Riley Blake (from the Christmas Candy collection)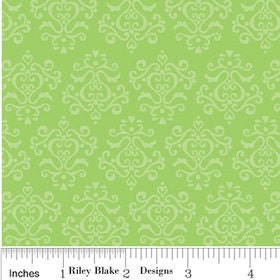 I love damask prints, and it's really hard to come by them in scales that are small enough to really shine on a pair of slippers, so this is a great find!
I'm also thinking of making stockings for the craft fair. Yule Critters in Lime, by Micheal Miller is my top choice for that project so far!